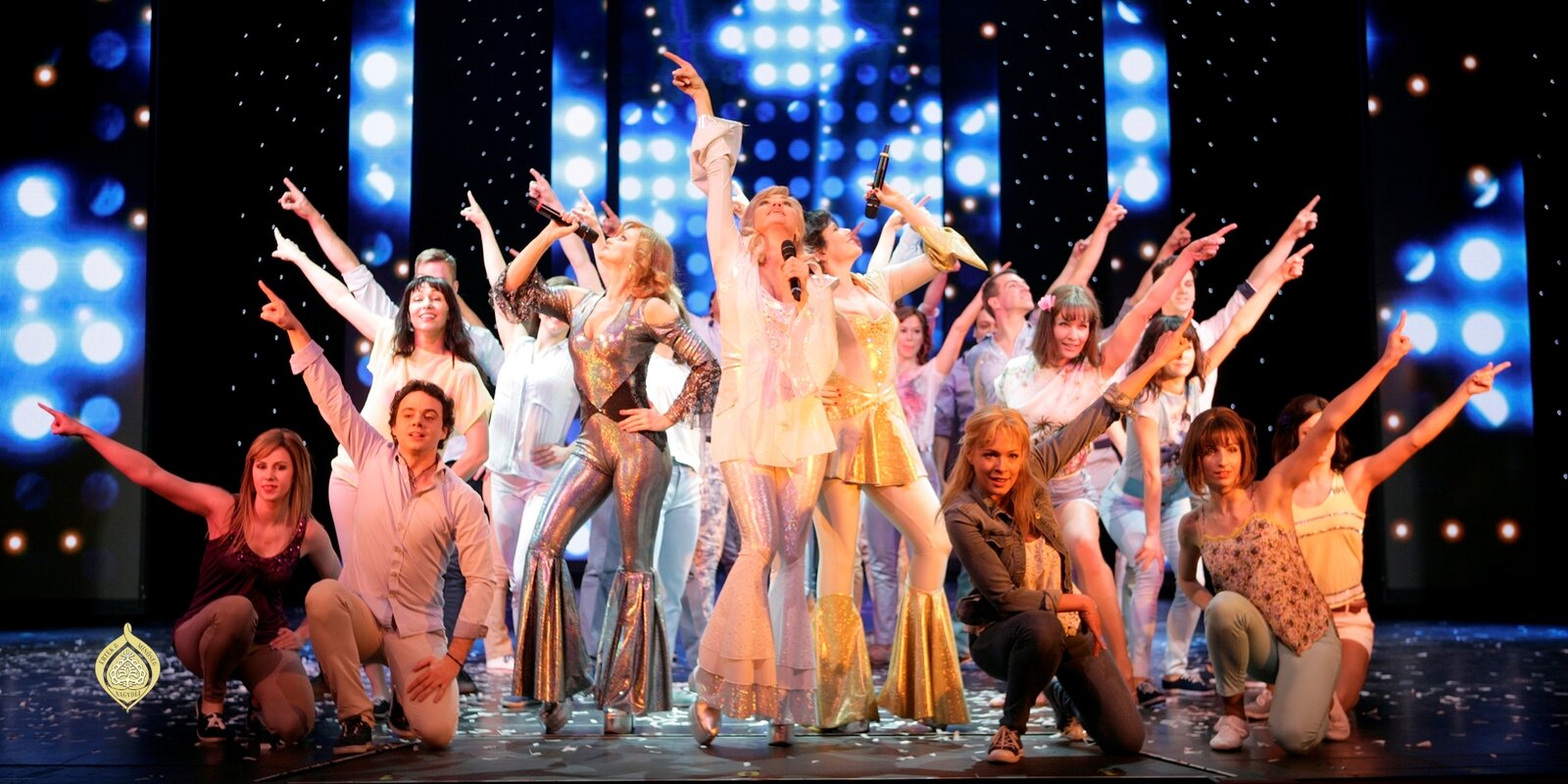 Cast
Donna Sheridan

Sam Carmichael

Bill Austin

Harry Bright

Sophie Sheridan

Tanya

Rosie

Sky

Lisa

Ali

Pepper

Eddie

And

Barát Attila, Borsányi Dániel, Csonka Dóra, Foki Veronika, Magyar Krisztina, Mező Zoltán, Miklós Eponin, Nagy Attila, Szentirmai Zsolt, Szilvási Judit

Továbbá

Közreműködik

a Madách Színház zenekara, tánckara és kórusa
Crew
Choreographer

Stage Designer

Custome Designer

Musical Director

Animation

Lighting Designer

Sound Engineer

Scenic Designer

Conductor

Assitant Choreographer

Musical Assistant

Accompanist

Directing Choir

Chorus Line Trainer

Assistant

Assistant Director

Director
Playbill
Musica and lyrics by BENNY ANDERSSON, BJÖRN ULVAEUS
And some songs with STIG ANDERSON
Book by CATHERINE JOHNSON
Originally conceived by JUDY CRAYMER
Mamma Mia! was originally produced in London by Judy Craymer, Richard East and Björn Ulvaeus for Littlestar in association with Universal.
Additional materials& arrangements MARTIN KOCH
Music published by Universal Music Publishing Group.
Transleted by Bárány Ferenc and Puller István
Language: Hungarian with English Subtitles
Info
12
12 Content is not recommended for children
Duration: 2 óra 45 perc, 1 szünettel
Strobe lighting
Genre: Musical
Premier:
2014. September 26.
2014. September 27.
2014. September 28.
A Greek island soaking in sunlight. An all-encompassing sparkling turquoise sea. Cozy taverns, mouth-watering meals, mavrodaphne... Simply idyllic - a perfect place to visit, to stay, and to return - and of course, to live.
Donna Sheridan, the independent, confident woman choses to settle down in this special place where Sophie, her daughter, was also born twenty years ago. Sophie, who, contrary to her mother's approach, has always been passionate about love, dreamed of a huge white wedding, desires to leave this marvellous mediterranean island. However, she doesn't plan to embark on this journey alone, but on the side of her future husband - Sky.. Their marriage is overshadowed by only one small thing: Sophie wants her father to lead her to an altar, but she has no idea who is he - yet...