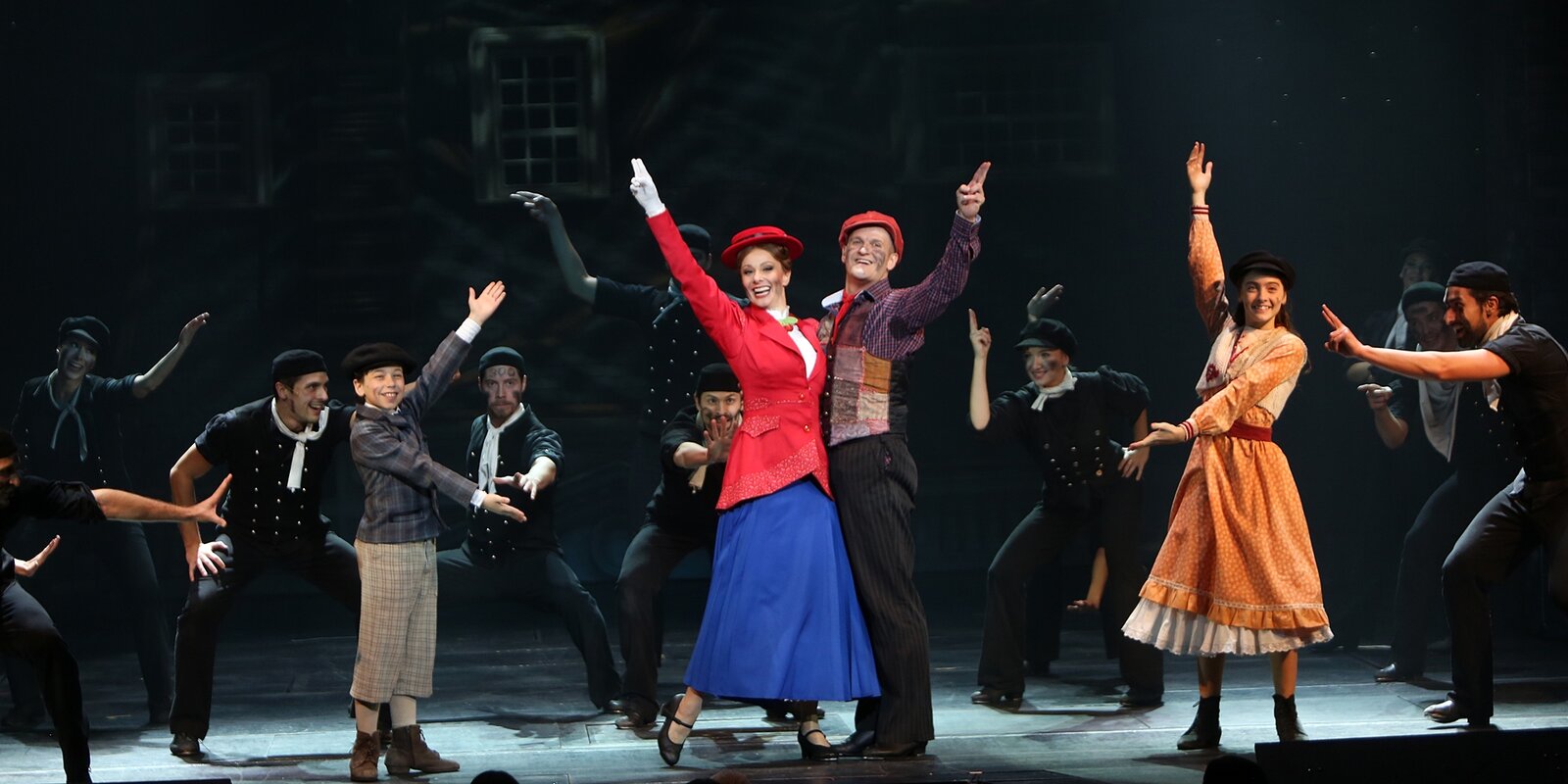 Cast
Mary Poppins

Bert

George Banks

Winifred Banks

Jane Banks

Aller Nagy Alma

Bak Júlianna Petra

Pesztericz Zita Kamilia

Michael Banks

Farkas Olivér

Gyetvai Martin

Holló-Zsadányi Norman

Miss Andrew

Admiral Boom / Bank Chairman

Bird Woman

Mrs. Corry

Mrs. Brill

Robertson Ay

Neleus / Valentine

Katie Nanna

Policeman / Von Hussler

Park Keeper / Northbrook

Miss. Lark

Valamint

a Madách Színház zenekara, tánckara és kórusa
Crew
Stage designer

Custome Designer

Choregrapher

Musical Director

Conductor

Animation

Effects

Scenic Designer

Lighting Designer

Flying Director

AirWalking Kft / Mihály Gábor vezetésével

Accompanist

Assitant Choreographer

Directing Choir

Chorus Line Trainer

Assistant

Éva Kutschera

Henrietta Pócsik

Assistant Director

Director
Playbill
A Production of DISNEY and CAMERON MACKINTOSH
A musical based on the stories of P. L. Travers and
the Walt Disney Film.
Original Music and Lyrics by RICHARD M. SHERMAN and ROBERT B. SHERMAN
Book by JULIAN FELLOWES
New Songs and Additional Music and Lyrics by GEORGE STILES and ANTHONY DREWE
Co-Created by CAMERON MACKINTOSH
Origanally Produced by Cameron Mackintosh and Thomas Schumacher for Disney
Transleted by Bárány Ferenc
Language: Hungarian with English Subtitles
Info
6
6 Content is not recommended for children
Duration: 2 óra 50 perc, egy szünettel
Strobe lighting
Genre: Musical
Premier:
2012. September 21.
2012. September 22.
2012. September 23.
"All the stars in the sky shine on you, Anything can happen if you let it so ..." sings the main character of the musical. Mary Poppins' magical character, the figure of an unforgettable nanny in children's literature, was invented by an Australian-born English woman Pamela Lyndon Travers, a journalist, actress and dancer. She has been writing, shaping episodes into a novel and even a series of novels for decades, working on it up to the age of 90. It was adapted to the screen in 1964, then based on Travers Stories, to the stage in a form of a musical in 2004. The script was written by Julian Fellowes, the music was composed by Richard M. Sherman and George Stiles, and the lyrics were written by Robert B. Sherman and Anthony Drewe. Since its premier, the musical has become an outstanding, multi-award winning piece of success around the world's stages, for the enjoyment of adults and children equally. The secret of its huge success is the original charm with which the musical combines the everyday life of the surrounding world with the magic of fairy tales...